Schwartz Investment House is a member and the exclusive representative in Israel of Terra Corporate Finance Alliance, one of the world's leading networks of middle-market M&A specialists.
Through the close working relations between Schwartz Investment House and members of the Terra network all over the world, we are able to provide our clients with the resources to identify relevant acquisition targets in other countries or to identify the most suitable international investors or financial or strategic partners for their companies.
Schwartz Investment House offers the following services to its clients seeking to acquire companies abroad:
Exposure to exclusive investment/acquisition opportunities in small and medium-sized companies in all sectors (from a company value of a few million Euro to EUR 500 million)

Advisory services on mergers and acquisitions of companies worldwide

Management of the acquisition process, including due diligence examinations of companies worldwide

Identifying acquisition targets according to the client's specific requirements

Market survey in each European country, macro-economic data and specific analyses of markets and industries according to the client's defined characteristics and target industry (plastics, automotive, pharmaceuticals, etc.).
Schwartz Investment House, with its solid experience in acquisition processes and its proven track record of successful transactions, draws on its knowledge and expertise for every transaction and designs a professional, comprehensive and meticulous acquisition process for its clients that help them make the right decisions and successfully close their transactions.
Our clients that seek to sell a business or add a strategic International partner gain the tremendous advantage of our ability to expose their business to potential investors throughout the world – foreign companies seeking strategic acquisitions in their sphere of operations in Israel, international private equity funds, foreign private and financial investors – through our membership in the international network, Terra Corporate Finance Alliance.
| | |
| --- | --- |
| Terra Corporate Finance Alliance | |
The Terra Corporate Finance Alliance was founded in 2002 and offers the international resources of hundreds of investment bankers and M&A consultants operating in the world's key business centers. The network is comprised of 15 investment banks in 20 countries, primarily in Europe, the United States and the Far East. The close cooperation among members of the Terra network enables every member to draw on international resources, the knowledge and expertise of all of the other members and exposure to unique acquisition opportunities being handled by members of the network. Each member of the Terra Corporate Finance Alliance brings its local expertise to each transaction, a deep understanding of a variety of industries, connections with the local business community and the ability to provide services to Israeli clients even in transactions of a few million dollars and up.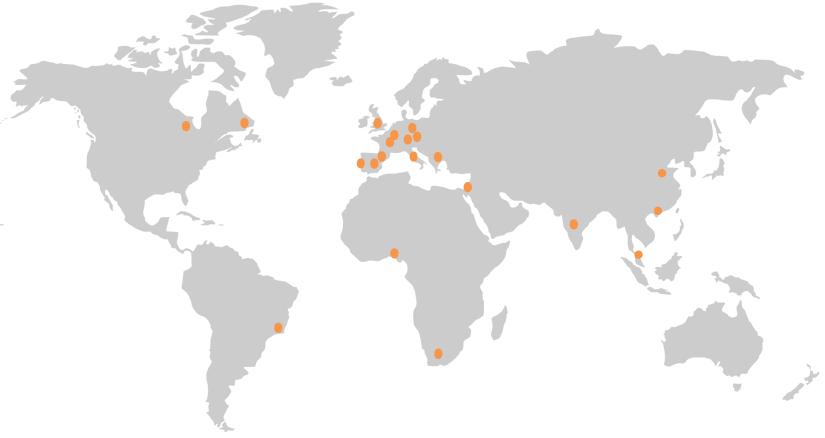 ---
Advantages of working with the Terra Corporate Finance Alliance
Local expertise of advisory teams with extensive transaction experience in the target company's operative market

Comprehensive advisory and support services for acquisition processes, even for transactions of limited volume

Deep understanding of a broad range of industries, and familiarity with the key players in every industry in the target country

Connections with international strategic and financial investors

Assistance in formulating and obtaining financing for acquisitions through foreign financing entities. Some of the members in the Terra network have commercial banking arms that provide credit to finance transactions

Through this expansive network of connections, we provide our clients with the same level of personal and discrete service in other countries as well. We accompany our clients throughout the entire process and closely manage all details in conjunction with our colleagues overseas, who contribute their local expertise, knowledge and experience in the target country.
For Further Information: www.terra-alliance.com